The last few boxes from our move have been driving me a little crazy. Right after we moved in I found a bookcase at a garage sale but when they had painted it they didn't let it dry all the way before putting books on it so it had paper attached to it in several places. I finally got it sanded down and repainted this week! But I'm trying not to resist the urge to bring it into the house and fill it up with books to soon and make the same mistake. I used oil based paint so I think it needs a full two days to not be tacky (and not stink up the house). One more day before I can bring it in! THEN I can unpack those boxes full of books we've never had room for before! I love books and it is so hard to get rid of them. I am one of those people that could spend hours and hours at a bookstore/library. Barnes & Noble is like Disneyland. Even if I just drive by my heart goes ahhhhhh.....
Here are my layouts:
In these layouts I used my
Just for Kicks Kit
plus a Soccer Star Frame and Scatter by Lindsay Jane Designs.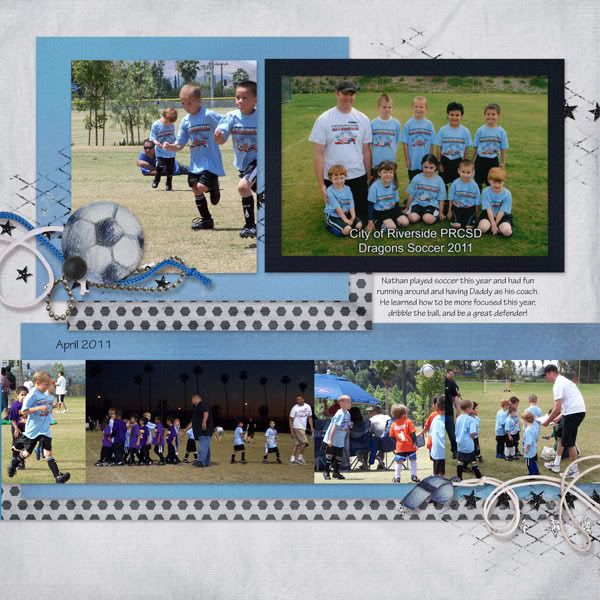 If you weren't able to get the freebie last week,
Baby Mine Templates
are also now available in my store, 25% off for two days at Scrapbook-Elements.
Credits for these layouts in my previous post.
I also have a freebie for you today! Bless the USA template features pastel and sketchy doodles that I've never showed you before (I think). I meant to have these ready for 4th of July, then 9/11 then now.....oh yea, we just had Veteran's day! Happy 11-11-11 (a day late)!
For this layout I used Red White and Blue Frame by Lindsay Jane Designs and Fireworks by Chelle's Creations.