I have a lot of new products in the store this week. They're a little random, so here it goes. Here's a
Quickpage
using my
Nativity Mini Kit
. You can see the layout a couple of posts down.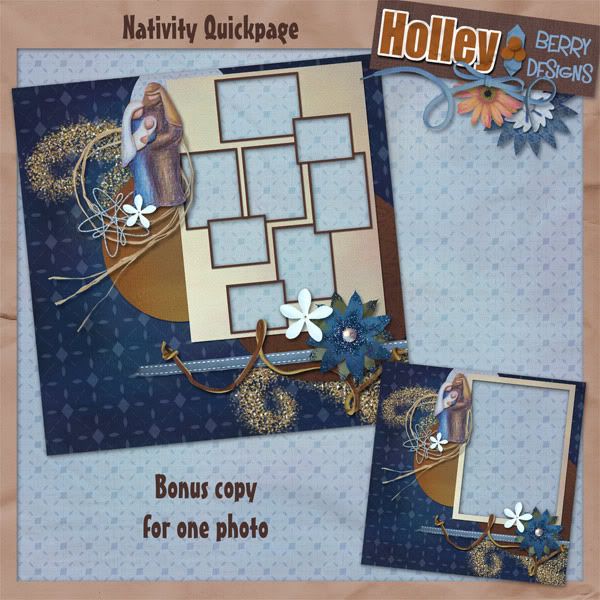 Here's
another Quickpage
that is ready to print and hang in a frame. Or you could add your own quote.
Here's the
Christmas Card Template
that was in the
newsletter
last month.
And here's how my Christmas card turned out! I did size it down to 4x6 inches. I used so many different elements. I used the main paper from my
Baker's Delight
mini (still available as a freebie), elements and papers from
My Prima Ballerina
,
Nativity Mini Kit
,
UBI Family Treasures Elements
, and
Articles of Faith Mega Kit.
I think that covers all of it! Oh I think one of the flowers is custom made and I recolored almost everything! :)
And here's a
gift idea
that was a freebie on my blog a little while ago.
Here's is one that I made for a wedding gift. I used my
Articles of Faith Mega Kit
(recolored of course).
And here are the
Templates
from the
wall hangings
so you can easily create your own. You can also buy them separately,
here (photo)
and
here (quote).
Whew! And even after all that I have a freebie for you. This is another gift idea (how many gifts have I made lately?). Make a mixed CD of your favorite Christmas songs and share! This CD cover is very printer friendly (meaning not using up lots of ink but still way cute!).
~
Oh and here's a list of fun songs to check out if you want (the ones in bold are songs you can download for free from Amazon--I never knew they had free ones!):
1. Where Are You Christmas? - Faith Hill
2. Christmas Baby Please Come Home - Mariah Carey
3. Breath of Heaven (Mary's Song) - Amy Grant4. Jingle Bells - Barbara Streisand
5. Baby It's Cold Outside - Holly Cole
6. Little Saint Nick - The Beach Boys
7. Mary Did You Know? - Clay Aiken
8. O Holy Night - Barlowgirl
9. Winter Wonderland - Point of Grace
10. Rockin' Around the Christmas Tree - Miley Cyrus
11. What Child Is This? - Barlowgirl
12. The Man With All the Toys - The Beach Boys
13. Last Christmas - Ashley Tisdale
14. Christmas Eve Sarajevo 12/24 - Trans-Siberian Orchestra
15. Merry Christmas, Baby - The Beach Boys
16. Silent Night - Sixpence None the Richer
17. The Chipmunk Song (Christmas Don't Be Late) (2007) - Alvin and the Chipmunks
18. Pat A Pan - Mannheim Steamroller
19. Santa's Beard - The Beach Boys
20. God Rest Ye, Merry Gentlemen - Jars of Clay
21. Oiche Chiun/Silent Night - Enya